Since the school's inception, Pei Hwa Foundation has pledged to support Pei Hwa Secondary School's educational programmes. As a result, the school is able to offer the Pei Hwa Scholarship to students who excel in their co-curricular activities as well as outstanding Secondary One students and graduates of the school. In 2013, the Pei Hwa Foundation Scholaships, ranging from $1,000 to $4,000, was established. This scholarship is for Pei Hwa Alumni Youth Wing members who perform well in their institutes of higher learning.
"Thank you Pei Hwa Foundation for the strong support in the Primary School Chinese Play Competition. We look forward to your continued support such that the competition will continue to nurture young talented passionate youth and drive the development of the local drama scene."
Chung Cheng High School (Yishun)
The Primary School Chinese Play Competition, first organised by Jurong Secondary, and subsequently by Chung Cheng High School (Yishun) for eight consecutive years since 2007, is solely sponsored by Pei Hwa Foundation. The objective of the competition is to promote Chinese Language and culture, and to achieve educational outcomes through the use of the dynamic and creative form of drama.
Anglo-Chinese School (Barker Road)
In 2002, Anglo-Chinese School (Barker Road) redeveloped its campus to provide world-class study environment for their 3,000 secondary school students. Pei Hwa Foundation contributed to the cause through a donation in 2001. the school's library was subsequently named after the Foundation.
Pei Hwa Foundation Bursary at Singapore Institute of Technology
In 2019, Pei Hwa Foundation Bursary was established to support financially disadvantaged but deserving students who are enrolled in undergraduate degree programmes offered by the Singapore Institute of Technology. The Foundation's contribution in 2019 has made it possible for three Bursaries (valued at $5,000 each) to be awarded annually and in perpetuity, empowering students to unlock their true potential through their education at SIT.
"Dear Pei Hwa Foundation,
Thank you for giving me this opportunity to pursue my dream. By awarding me with this Bursary, you have lightened my financial burden which allows me to focus more on school. I hope one day I will be able to help students to achieve their goals just as you have helped me."
"Dear Pei Hwa Foundation,
Thank you for choosing me as a Bursary recipient. It means so much to me as it will help me focus on excelling in my studies without thinking so much about study expenses! Once again, thank you!"
"I would like to sincerely thank Pei Hwa Foundation for awarding me with the Bursary in AY 2019/20. Coming from a single parent home, the Bursary has tremendously lifted the financial burden of my family and allowed me to focus in my studies way better than before. Thank you again for your generosity."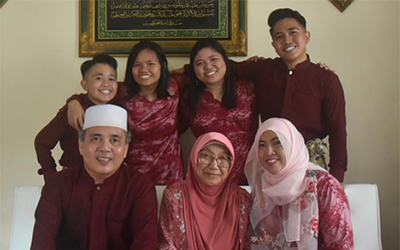 "I would like to extend my appreciation to Pei Hwa Foundation for their generosity. I am beyond grateful for the help that had been given thus far which helped lift the financial burden off my parents' shoulders, especially during this pandemic. I am able to fully utilise it for my school expenses and educational pursuits. Thank you, Pei Hwa Foundation."
Support for Social Services
Ju Eng Home for Senior Citizens is one of the social services beneficiaries adopted by Pei Hwa Foundation. The mission of the Home is to provide shelter and care for the frail or destitute elderly regardless of race or religion, and to promote their physical, mental and spiritual welfare. With the Foundation's support, the Home is able to subsidise 90 percent of the residents, upgrade healthcare equipment and facilities as well as improve overall healthcare standards.
"We are grateful to Pei Hwa Foundation for their generous donations to support our mission. We sincerely thank you and wish you a happy 80th Anniversary celebration."
Support for Healthcare Providers
Chung Hwa Free Clinic, Singapore Buddhist Free Clinic, Thong Chai Medical Institute, Public Free Clinic Society and Ren Ci Hospital are just a few of the many healthcare providers and medical enterprises that have received funding from Pei Hwa Foundation to help their patients.
"I want to thank all of you for making this possible. Without caring people like you, there would be no NKF and without NKF, I would not be alive today"
Pei Hwa Foundation-NKF Dialysis Centre
Pei Hwa Foundation is one of the sponsors of Singapore National Kidney Foundation (NKF), and one of the dialysis centre is named "Pei Hwa Foundation-NKF Dialysis Centre" at Blk 565 Ang Mo Kio Avenue 3. The cost of building and equipping the Centre was $1.5 million, and Pei Hwa Foundation donated $1.25 million towards the project. The centre started its operations in 2007 and was oficially opened in 2008, offering a total of 22 station accomodating up to 120 patients.
Support for Sport Development
Pei Hwa Foundation is also Actively involved in contributing to sports organisations to nurture young sporting talents. For example, a grant was donated to Changi Sailing Club which prides itself in producing most of Singapore's sailing luminaries and Asian Gold medallists. The grant was used to subsidise the Youth Development Programme to encourage youth sailors to sail recreationally through a co-ownership and boat-leasing programme. Other notable sports organisation recipients include the Volleyball Association of Singapore and Singapore Yachting Association.
Kidney Dialysis Foundation Limited (KDF)
Kwong Wai Shiu Hospital
Sian Chay Medical Institution
Public Free Clinic Society
Singapore Thong Chai Medical Institute
S'pore Buddisthist Free Clinic
S'pore Anti Narcotics Association
Dover Park Hospice
HCA Hospice Care
AWWA Ltd
Beyond Social Services
Bright Vision Hospital
Diabetes Singapore
Down Syndrome Association
HCSA Community Services
Handicaps Welfare Association
Kampung Senang Charity & Edu Foundation
National Cancer Centre Singapore
O'Joy Care Services
RSVP-The Organization of Senior Volunteers
Singapore Heart Foundation
SPD-Society for the Physically Disabled
St. Lukes Eldercare Ltd
St. Andrew's Mission Hospital
St. John's Home for Elderly Persons
Thye Hua Kwan Nursing Home Hougang
YMCA of Singapore
Awards Photo Gallery